"LET THERE BE LIGHT" Ministries




LET THEM MAKE ME A SANCTUARY, part 12 quotes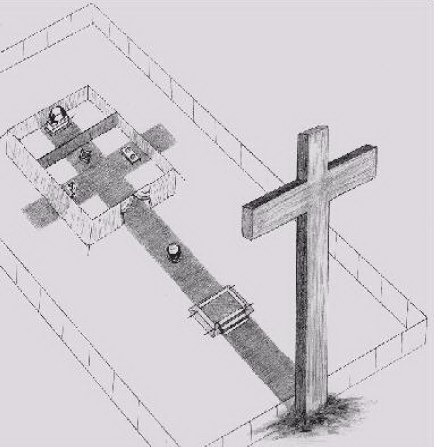 Credit: Adele Sessler from lightministries.com

1) The White Linen Breeches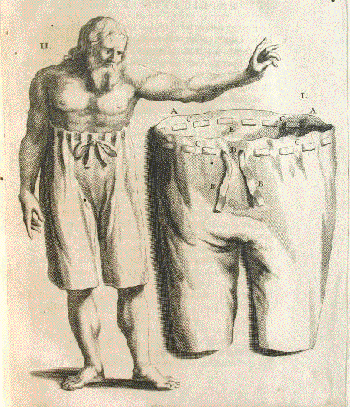 [Bigdê kohanîm], id est vestitus sacerdotum..., p 452, by Johann Braun, 1680 edition

In addition to all of these outer garments, the Lord God Michael directed that the high priest as well as all of the common priests were to wear an undergarment of "linen breeches of fine twined linen" (Exodus 39:28). The purpose of these linen breeches was "to cover their nakedness...when they come in unto the tabernacle of the congregation, or when they come near unto the altar to minister in the holy place; that they bear not iniquity, and die: it shall be a statute for ever unto him and his seed after him" (Exodus 28:42-43).

These linen breeches extended "from the loins even unto the thighs" (Exodus 28:42), which made it impossible for the nakedness of any priest to be directly seen at any time. These breeches were also in addition to the outer priestly garments, which prevented the outline or shadow of his manly form from being indirectly seen should any priest happen to pass in front of any light.

When Adam and Eve first found themselves naked in the garden of Eden after committing sin, God did not allow them to remain publically naked, but provided them with "coats of skins, and clothed them" (Genesis 3:21). The Lord God Michael was again making it plain and clear that He had not changed, and that no form of public nakedness was to be permitted because it was not something to be proud of, but was shameful (Exodus 32:25; Isaiah 20:4, 47:3; Nahum 3:5; Revelation 3:18). If any priest were to purposely ignore this divine instruction and expose his nakedness while being connected with any aspect in the worship of God, then this lewd act would make them guilty of committing "iniquity" while in sacred service to God, and they would "die" because of it (Exodus 28:42).

All the other religions believed that nakedness was not something to be ashamed of, but was something to be proud of and was even to be permitted at special times while in public. The pagans believed that their gods were reproduced through sexual acts, and creation itself was believed to be brought about by their gods through sexual acts. With this belief they thought it was only proper to include the public worshipping of the sexual organs of both male and female, and to even engage in sexual acts as part of their public religious services. They believed that these public orgies were the highest form of worship to their gods, and thus were necessary in order to please and honor them.

By the Lord God Michael requiring all of His priests and ministers to have on linen breeches underneath their garments distinctly set apart His system of worship from all the other pagan religions. The Lord God also made it clear that these same sensual practices of the pagans were not to be allowed or connected with His worship services in even the slightest way. And since the firstborn from all the other 11 tribes had joined in with the same sexual religious practices of the pagans during the golden calf apostasy, and had exposed their nakedness in public (Exodus 32:25), then this is one of the reasons why God refused them and instead chose the faithful tribe of Levi to become His priests!

Through all these priestly requirements, the Lord God Michael proved beyond doubt that He indeed was a God like no other on the earth! As He was "the Lord that bringeth you up from the land of Egypt, to be your God" (Leviticus 11:45) and was indeed "thy God, the Holy One of Israel, thy Saviour" (Isaiah 43:3), then He expected all of His followers, especially those connected with His sanctuary and worship services, to also "be holy, for I am holy" (Leviticus 11:45, 19:2, 20:7, 26, 21:8).

2) What spiritual truth do these white linen breeches teach us?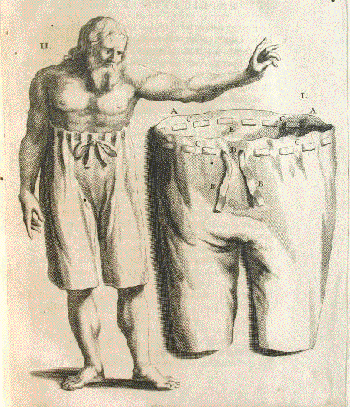 [Bigdê kohanîm], id est vestitus sacerdotum..., p 452, by Johann Braun, 1680 edition

Nakedness is a symbol of the sin and selfishness of an unconverted heart. As long as we remain unconverted and full of sin and self then we are without the covering of Christ's precious robe of righteousness around us, and therefore are shamefully naked! Just as Adam and Eve used flimsy fig leaves as a substitute covering for their nakedness, so many of God's followers today are found using flimsy excuses to try and cover up their sins and selfishness. Yet all such excuses in continuing to allow self to live and not die just plainly reveals how "wretched, and miserable, and poor, and blind, and naked" they and we really are (Revelation 3:17).

It is only when we decide to no longer live for self, but humbly come to Christ and beg Him to fully forgive, cleanse and convert us that He will then give us:
"...gold tried in the fire, that thou mayest be rich; and white raiment, that thou mayest be clothed, and that the shame of thy nakedness do not appear; and anoint thine eyes with eyesalve, that thou mayest see". Revelation 3:18.
Those faithful and selfless followers of Jesus in the condition of Smyrna would represent those who remain "faithful unto death", and they will indeed be given "a crown of life" (Revelation 2:10). Those selfless followers of God in the condition of Philadelphia will not see death at all, but will remain alive unto the coming of the Lord Jesus Christ. This is because Christ states that since they have "kept the word of my patience, I also will keep thee from the hour of temptation, which shall come upon all the world, to try them that dwell upon the earth" (Revelation 3:10).
3) If any of us choose to cling to our sins and selfishness, then we actually choose to remain shamefully naked and unclothed by Christ's robe of righteousness. In this unsavable condition, we then face being removed from our place and position and being set aside by our God, to then be forever lost!

"Jerusalem hath grievously sinned; therefore she is removed: all that honoured her despise her, because they have seen her nakedness: yea, she sigheth, and turneth backward." Jeremiah 1:8.
"If we confess our sins, he is faithful and just to forgive us our sins, and to cleanse us from all unrighteousness." 1 John 1:9.
"He that covereth his sins shall not prosper: but whoso confesseth and forsaketh them shall have mercy." Proverbs 28:13.

4) What other important spiritual truth do these undergarments teach us?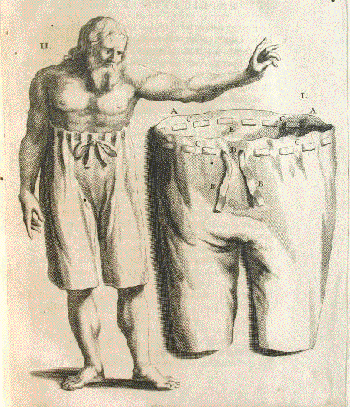 [Bigdê kohanîm], id est vestitus sacerdotum..., p 452, by Johann Braun, 1680 edition

These white linen breeches were to be worn in addition to the white coat and blue robe. But why did God also provide the additional protection of undergarments shielding against even the form of nakedness of the priest being revealed? These additional undergarments would symbolize how careful we should be to avoid allowing even the form or appearance of selfishness and sin to be revealed in their life.

"Enter not into the path of the wicked, and go not in the way of evil men. Avoid it, pass not by it, turn from it, and pass away." Proverbs 4:14-15.

These verses reveal that someone who is already righteous should be extremely careful to maintain their righteousness by not even daring to walk in the same pathway of the wicked.

5) "Flee also youthful lusts: but follow righteousness, faith, charity, peace, with them that call on the Lord out of a pure heart. But foolish and unlearned questions avoid, knowing that they do gender strifes. And the servant of the Lord must not strive; but be gentle unto all [men], apt to teach, patient, In meekness instructing those that oppose themselves; if God peradventure will give them repentance to the acknowledging of the truth; And [that] they may recover themselves out of the snare of the devil, who are taken captive by him at his will." 2 Timothy 2:22-26.

"This is a faithful saying, and these things I will that thou affirm constantly, that they which have believed in God might be careful to maintain good works. These things are good and profitable unto men. But avoid foolish questions, and genealogies, and contentions, and strivings about the law; for they are unprofitable and vain." Titus 3:8-9.

"Now I beseech you, brethren, mark them which cause divisions and offences contrary to the doctrine which ye have learned; and avoid them. For they that are such serve not our Lord Jesus Christ, but their own belly; and by good words and fair speeches deceive the hearts of the simple. For your obedience is come abroad unto all men. I am glad therefore on your behalf: but yet I would have you wise unto that which is good, and simple concerning evil." Romans 16:17-19.

These Scriptural passages reveal that we are to avoid entering into a debate or controversy over foolish issues, or side-issues with others, avoiding any discussion that does not deal with important doctrinal truth or salvational issues. God also instructs that we are even to avoid fellowshipping with those who cause such strife and division over these issues!

6) "Now we exhort you, brethren, warn them that are unruly, comfort the feebleminded, support the weak, be patient toward all men. See that none render evil for evil unto any man; but ever follow that which is good, both among yourselves, and to all men. Rejoice evermore. Pray without ceasing. In every thing give thanks: for this is the will of God in Christ Jesus concerning you. Quench not the Spirit. Despise not prophesyings. Prove all things; hold fast that which is good. Abstain from all appearance of evil. And the very God of peace sanctify you wholly; and [I pray God] your whole spirit and soul and body be preserved blameless unto the coming of our Lord Jesus Christ. Faithful is he that calleth you, who also will do it." 1 Thessalonians 5:14-24.

These verses reveal that we are to avoid doing anything that has the appearance of evil.

All these Scriptural passages reveal that as the hidden linen breaches gave extra shielding against even the form of nakedness being seen, so we are to avoid doing anything that has the appearance of evil - including avoiding side-issue discussions that have no bearing on the present truth or on our salvation!