"LET THERE BE LIGHT" Ministries




LET THEM MAKE ME A SANCTUARY, part 11 quotes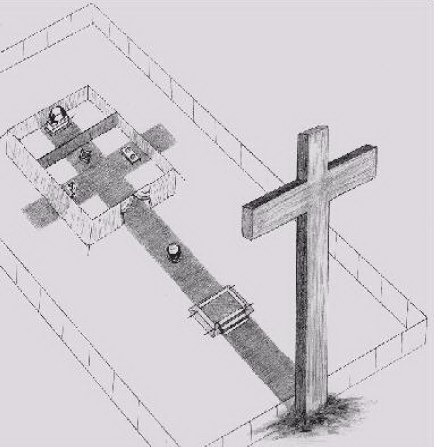 Credit: Adele Sessler from lightministries.com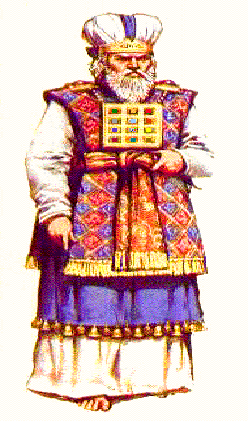 Credit: bible-history.com

1)

| | |
| --- | --- |
| Credit: mishkanministries.org | Credit: revograce.wordpress.com |

- What represented the golden bells on this blue robe?

These bells tinkled whenever the priest moved, and thus allowed anyone listening to understand exactly where and what the priest was doing. This symbolized that the priest could not hide his actions from being noticed by others. So in like manner, we also cannot hide our actions from being noticed by others, but are as an open book for others to see.

"Curse not the king, no not in thy thought; and curse not the rich in thy bedchamber: for a bird of the air shall carry the voice, and that which hath wings shall tell the matter." Ecclesiastes 10:20.

"For nothing is secret, that shall not be made manifest; neither any thing hid, that shall not be known and come abroad." Luke 8:17.

"Ye are our epistle...known and read of all men". 2 Corinthians 3:2.

We must be circumspect in all that we think, do and say, because others will eventually find out. This also means that no matter what false accusations and blatant lies may be spread around about us, God will allow the truth to come out.

2)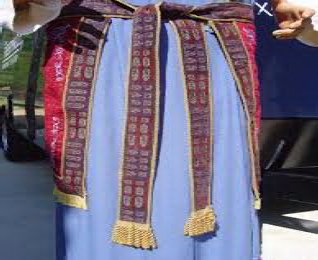 Credit: mishkanministries.org

- What represented the curious girdle of gold, blue, scarlet and purple that covered the high priest's back and chest and bound the blue robe as well as the white coat underneath firmly to his body?

This girdle represents our faithfulness to God and determination to do whatever it takes to remain His obedient and righteous follower.

"And righteousness shall be the girdle of his loins, and faithfulness the girdle of his reins." Isaiah 11:5.

Just as this colorful girdle bound the blue robe and white coat close to the body, so it is our faithfulness unto God that keeps our obedience to His law as well as Christ's robe of righteousness close to and a part of our very lives.

3)

| | |
| --- | --- |
| Credit: sapphirethroneministries.com | Credit: emmausroadministries.international |

-What represented the Ephod or the shoulder piece and the two stones with the 12 names of the tribes of the children of Israel engraved on them?

The two stones symbolize all of the followers of God, and as the shoulders are used to lift, support and bear the weight of heavy burdens, so this symbolizes that our Mighty Redeemer is strong enough to lift, support and bear all of our burdens and perplexities if we will just let Him do so for us.

4)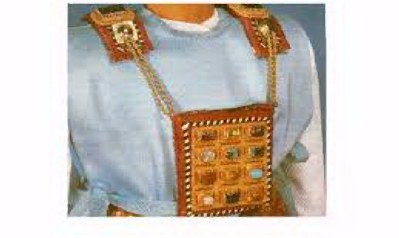 - What represented the golden breastplate of judgment containing 12 different precious stones with the names of the twelve tribes?

As this breastplate of judgment rested squarely in front of the high priest's chest and was secured there by being attached to the curious girdle, so this signified that Christ is bearing the names of each and every follower of His squarely and securely upon his heart before God Almighty, so that none of His true followers would be condemned in the judgement and be lost. The high priest was linking his entire being, as well as binding all his life's interests with the people he represented before the Lord God. This just reinforced the fact that the priests were the servants of their people before God, and therefore bore a very weighty responsibility to faithfully perform and remain true to their calling and work.

As each of these 12 precious stones was formed of a different mineral, and each had its own special significance differing from all the rest, so this symbolized that each and every one of God's followers have their own special work to do for God which no other follower of God can do for them. But even though each of these stones were formed with their own particular characteristics differing from the others, yet they were all organized and unified together in that one breastplate and therefore aided one another to produce more dazzling light than if they had sparkled all alone. Even though we each are formed with our own particular characteristics and work to do for God, yet we are to be organized and unified together forming one harmonious body and thereby can aid one other to accomplish so much more in glorifying God than if we remained separate from one another.

5)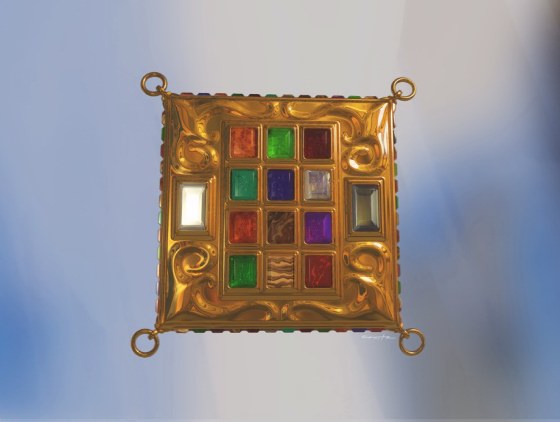 Credit: goodsalt.com

The Urim and the Thummim were placed on either side of the Breastplate of Judgment. When counsel or direction from God was needed in some important matter, the high priest would come "before the Lord" (Numbers 27:21) and questions would be asked of God that required a positive or negative answer. God would then indicate a positive answer by miraculously causing light to shine upon the Urim stone which then made it sparkle in fiery radiance causing many lights or "bright rays darting out thence...which splendor yet was not before natural to the stone" (Antiquities, vol iii, p 8, paragraph 9, by Josephus, Whiston's translation, at
http://www.jewishencyclopedia.com/view.jsp?artid=52&letter=U#ixzz19AyrwBaA
, accessed 5-3-13). But if God did not miraculously cause light to shine upon the Urim, and also prevented the Thummim from emitting any diffusion of light at all by perhaps miraculously covering it with a shadow, then this indicated a negative answer. This meant that the needed answer to these important questions were not obtained through the often erroneous wisdom of men, but "the Lord answered" (1 Samuel 28:6) these questions Himself!

- What represented the Urim and Thummim?

Since these stones were used to determine God's will in any of the important questions that needed to be answered and decided, so this symbolizes that God's followers must go to God for His direction and guidance in any and all important decisions needed to be made. If we do this, then the infallible God Himself would be guiding and directing us, and not our own fallible erring minds, or the erring minds of other fallible humans. While it is good and proper to obtain counsel from other brothers and sisters in whom you trust, yet you must not stop with just following their counsel alone, you must go to God and ask for and obtain His counsel. Instead of allowing fallible mankind to have the final word in your life in any important matters, you must allow God to have the final word and authority in whatever decisions you needed to make.

"Cease ye from man, whose breath is in his nostrils: for wherein is he to be accounted of?" Isaiah 2:22.

"It is better to trust in the LORD than to put confidence in man. It is better to trust in the LORD than to put confidence in princes." Psalms 118:8-9.

"Ah Lord GOD! behold, thou hast made the heaven and the earth by thy great power and stretched out arm, and there is nothing too hard for thee: Thou showest lovingkindness unto thousands...the Great, the Mighty God, the LORD of hosts, is his name, Great in counsel, and mighty in work: for thine eyes are open upon all the ways of the sons of men: to give every one according to his ways, and according to the fruit of his doings." Jeremiah 32:17-19.

"Whether it be right in the sight of God to hearken unto you more than unto God, judge ye....We ought to obey God rather than men." Acts 4:19, 5:29.

6)


The white holy mitre covered the hair and head from just above the eye brows to around the base of the skull. Upon this mitre was that golden plate which had the words "HOLINESS TO THE LORD" engraved upon it (Exodus 28:36) and which was secured to "the forefront of the mitre" (Exodus 28:37) directly over "Aaron's forehead" (Exodus 28:38). It was then kept there in place with "a blue lace" (Exodus 28:37), which made it a type of a "holy crown" (Exodus 29:6, 39:30).

- What represented the white holy mitre and the golden plate placed over the priest's forehead with the words Holiness unto the Lord engraved on it?

As the white mitre covered over, shielded as well as enveloped the entire head or brain and mind of the priest, so Christ and His righteousness must be the covering barrier shielding us from the mental attacks and fierce temptations of the devil and preventing these from overwhelming us, and also that Christ and His righteousness must envelop our mind with holy thoughts centering in Him and His truth.

The forehead is directly in front of the frontal lobes of the brain which deal with decision making thought processes. So as this golden plate engraved with the words Holiness Unto The Lord was placed directly over the priest's forehead, then this signified that the priests were to be holy in all their thoughts. And as the lace of blue continued to fix this golden plate directly over the priest's forehead, and since blue symbolizes obedience, then this symbolized that it is by the priest's as well as our continued obedience to God and His law that we all are able to maintain our holiness unto the Lord.

Each one of us are not only to be holy or clean in our outward clothing and conduct, but especially are we to be holy and clean in our mind and thoughts.

"...put off concerning the former conversation the old man, which is corrupt according to the deceitful lusts; And be renewed in the spirit of your mind; And that ye put on the new man, which after God is created in righteousness and true holiness." Ephesians 4:22-24.

"...be not conformed to this world: but be ye transformed by the renewing of your mind, that ye may prove what is that good, and acceptable, and perfect, will of God." Romans 12:2.

7) Outfit of Common Priests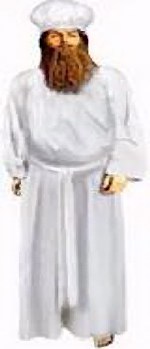 Credit: blogs.bible.org

The outward garments of the common priests only consisted of the white linen coat, then the linen girdle confining it to the back and chest, and a linen bonnet upon their head (Exodus 28:40).

The spiritual significance of these would be the same as we already discovered for the high priest:

– the white linen coat represented the righteousness of Christ fully covering over and protecting God's people

– the girdle would represented their continued faithfulness to God thus keeping Christ's righteousness close to and connected with them.

– the white bonnet shielding and enveloping the entire head and brain or mind of the priest would represent Christ and His righteousness needing to be the covering barrier shielding us from the mental attacks and fierce temptations of the devil and preventing these from overwhelming us, and also Christ and His righteousness needing to envelop our mind with holy thoughts centering in Him and His truth.