"LET THERE BE LIGHT" Ministries




LET THEM MAKE ME A SANCTUARY, part 8 quotes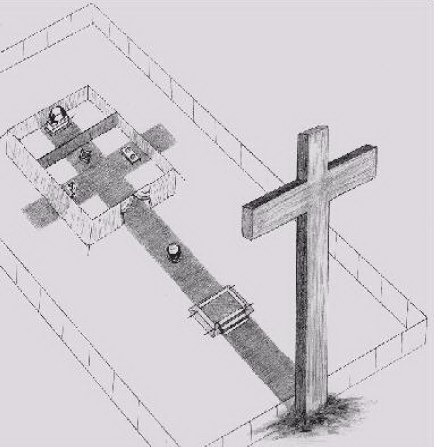 Credit: Adele Sessler from lightministries.com

1) What spiritual truths do the 10 different steps in the sacrificial process for cleansing from sin teach?

Spiritual Truth #1:

– All sacrificial victims symbolized Jesus Christ becoming our sacrifice for sin.

Spiritual Truth #2:

– The reason all the animals had to be without blemish symbolized that Jesus Christ must be a perfect and sinless sacrifice without any character defects.

Spiritual Truth #3:

– The sinner having to choose their sacrificial victim, then lay their hands upon the animal's head and confess over them all their sins, thus transferring their sins onto this substitute victim, symbolized that we must personally choose Jesus Christ to be our Sacrifice for sin and then confess our sins to Him, thus transferring them onto Christ.

Spiritual Truth #4:

– The sinner having to personally kill this innocent substitute victim and spill its blood, symbolized that it was your and my sins that actually killed Christ and spilled His blood, the innocent spotless Lamb of God suffering for us guilty sinners.

Spiritual Truth #5:

– The spilt blood of this substitute and sacrificial victim being taken and placed before God, symbolized Christ pleading His spilt blood before God as atonement for our sins.

Spiritual Truth #6:

– What did the offering of all the fat with the two kidneys and the cau mean? Fat symbolizes sin (Psalms 37:20). The two kidneys, as well as the caul – which was part of the liver, are organs that purified the blood from all impurities, and thus were connected with these impurities. As the sinner themselves had to search for, discover and then separate all the fat and these purifying organs from being connected with the body, symbolizes that we ourselves must be willing to search for, discover and then separate all sin and impurities from being connected with ourselves, allowing these to be totally consumed and not to return back.

Spiritual Truth #7:

– The sacrificial victim being placed on the fire of the altar and then burnt to ashes, symbolized that Jesus Christ was also willing to pay our penalty for sin as a complete sacrifice, by tasting the second death for all sinners. The ashes symbolize that in the end, all sin as well as all those who cling to their sins instead of Christ, will be completely consumed by fire until nothing remains except ashes.

Spiritual Truth #8:

– The Drink Offering of grape juice being poured out over this substitute sacrificial victim on the altar, symbolized that Christ was willing to pour out His soul unto death.

Spiritual Truth #9:

– The Meat or Food Offering of wheat that had been bruised and crushed into flour, symbolized that Christ was willing to be bruised and crushed under the weight of our sins in order to provide salvation for us.

Spiritual Truth #10:

– The ashes of this completely burnt offering for sin being removed from the Sanctuary and the camp of God's followers and taken out into a clean place in the wilderness, symbolized that once sin and sinners are completely destroyed to ashes in the lake of fire, then God's entire universe will be forever cleansed, because sin would never again "rise up the second time" (Nahum 1:9). After this occurs, then only peace, joy, unity, contentment, happiness and love would forever more dwell among all the unfallen and redeemed inhabitants of God's entire universe.

2) "He is despised and rejected of men; a man of sorrows, and acquainted with grief: and we hid as it were our faces from him; he was despised, and we esteemed him not. Surely he hath borne our griefs, and carried our sorrows: yet we did esteem him stricken, smitten of God, and afflicted. But he was wounded for our transgressions, he was bruised for our iniquities: the chastisement of our peace was upon him; and with his stripes we are healed. All we like sheep have gone astray; we have turned every one to his own way; and the LORD hath laid on him the iniquity of us all. He was oppressed, and he was afflicted, yet he opened not his mouth: he is brought as a lamb to the slaughter, and as a sheep before her shearers is dumb, so he openeth not his mouth. He was taken from prison and from judgment: and who shall declare his generation? for he was cut off out of the land of the living: for the transgression of my people was he stricken. And he made his grave with the wicked, and with the rich in his death; because he had done no violence, neither was any deceit in his mouth. Yet it pleased the LORD to bruise him; he hath put him to grief: when thou shalt make his soul an offering for sin, he shall see his seed, he shall prolong his days, and the pleasure of the LORD shall prosper in his hand. He shall see of the travail of his soul, and shall be satisfied: by his knowledge shall my righteous servant justify many; for he shall bear their iniquities. Therefore will I divide him a portion with the great, and he shall divide the spoil with the strong; because he hath poured out his soul unto death: and he was numbered with the transgressors; and he bare the sin of many, and made intercession for the transgressors."

3) The greatest central truth which these sacrificial offerings for sin pointed to was the fact that blood had to be shed in order to forgive sin.

"...without shedding of blood (there) is no remission (of sin)". Hebrews 9:22.

This was why the Sanctuary and Temple of God was sprinkled with the shed blood of an innocent victim (Leviticus 16; Hebrews 9:21), also the book of the covenant, the people themselves (see Exodus 24:5-8; Hebrews 9:18-20), and is the reason why both apartments of the earthly Sanctuary were covered over with rams' skins dyed red!

There is no forgiving virtue in the sacrificed body and shed blood of any of these slain animals. These were just symbols pointing to the future sacrificed body and shed blood of Jesus Christ!

"For it is not possible that the blood of bulls and of goats should take away sins. Wherefore when he cometh into the world, he saith, Sacrifice and offering thou wouldest not, but a [human] body hast thou prepared me: In burnt offerings and sacrifices for sin thou hast had no pleasure. Then said I, Lo, I come (in the volume of the book it is written of me,) to do thy will, O God. Above when he said, Sacrifice and offering and burnt offerings and offering for sin thou wouldest not, neither hadst pleasure therein; which are offered by the law; Then said he, Lo, I come to do thy will, O God. He taketh away the first [covenant based upon animal sacrifices], that he may establish the second [covenant based upon Christ's sacrifice]. By the which will we are sanctified through the offering of the body of Jesus Christ once for all." Hebrews 10:4-10.

"And to Jesus the mediator of the new covenant, and to the blood of sprinkling, that speaketh better things than that of Abel." Hebrews 12:24.

Jesus Christ has brought in a new and "a better covenant, which was established upon better promises" (Hebrews 8:6).

4) "For this is my blood of the new testament, which is shed for many for the remission of sins." Matthew 26:28.

"But if we walk in the light, as he is in the light, we have fellowship one with another, and the blood of Jesus Christ his Son cleanseth us from all sin. If we say that we have no sin, we deceive ourselves, and the truth is not in us. If we confess our sins, he is faithful and just to forgive us our sins, and to cleanse us from all unrighteousness." 1 John 1:7-9.

Will you freely choose Jesus Christ as your sacrificial Offering for sin, and come humbly before God confessing and repenting of all your sins, accepting Christ's substitution and sacrificed righteous life in your behalf?