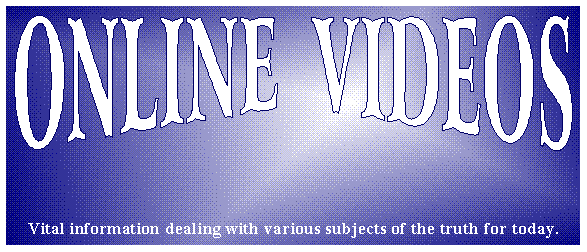 BIBLE HISTORY OF SEPARATION

(Principles of truth established on the first day of creation.)



THE CHARACTER OF GOD

(Discover the amazing revelation of the glory or character of God)



(Discover why there are so many professed Christian churches,

but only a few real followers of Christ.)


THE CONTROVERSY OVER REVELATION 18



(We can we be held responsible for the sins of our church--even though

we did not personally participate in these sins!)


(Discover how churches in history became Babylon and why.

Could it happen again?)


THE LATTER RAIN AND LOUD CRY



LET THEM MAKE ME A SANCTUARY

(Why was the Sanctuary of God really built, and what hidden meanings are contained within it?)




(Learn why the Supreme Court made this decision, and what ramifications it has for us all)


(Discover what Christ's last prayer was, and how you can help answer it)


(Discover what the SDA church believes today regarding the Beast, Babylon, the Mark,

the Antichrist, the Everlasting Gospel, etc. It may shock you!)


THE TWO MOST IMPORTANT PARABLES OF CHRIST